Private Vascular Consultant: Mr Wijesinghe
Based within the Dorset and Wiltshire Vascular Network centred at the Royal Bournemouth Hospital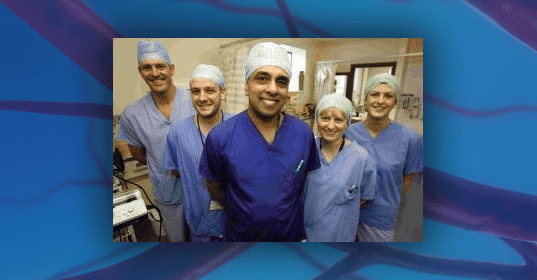 Vascular Consultant, Bournemouth & Poole
Specialising in the Treatment of Varicose Veins
Mr Lasantha Wijesinghe worked with Dr Ravin and Dr Jemima Ramtohal for several years. Mr Lasantha Wijesinghe is a vascular surgeon who undertakes private clinics at BMI The Harbour Hospital in Poole. He specialises in the treatment of varicose veins using minimally invasive techniques and surgery. He also treats leg swelling, arterial problems, aneurysms and leg ulcers.
Mr Wijesinghe has been a consultant vascular surgeon since 2002 having graduated from the University of Cambridge. He has served on the Council of the Vascular Surgical Society of Great Britain and Ireland and is a Fellow of the Royal College of Surgeons, and the European Board of Vascular Surgery. He was elected to the Council of the Royal College of Surgeons of England in April 2020 for a four-year term.
His NHS practice is based within the Dorset and Wiltshire Vascular Network centred at the Royal Bournemouth Hospital.
Clinical Interests
• Foam scelotherapy
• Thread veins
• Varicose veins
• Botox
• Hernia Repair
• Aneurysms
• Peripheral vascular disease
Professional Memberships
• Vascular Society of Great Britain and Ireland
• Royal College of Surgeons of England
• British Medical Association