Gastroenterology Consultant: Dr Simon McLaughlin
Consultant Physician and Gastroenterologist at The Royal Bournemouth Hospital, Bournemouth private clinic and The Nuffield Health Bournemouth Hospital.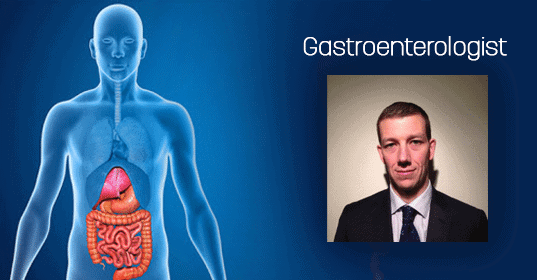 Gastroenterologist, Bournemouth
Specialist Interests: Irritable Bowel Syndrome, Coeliac Disease, Crohn's Disease, Ulcerative Colitis and Pouchitis.
Dr McLaughlin is an NHS and private gastroenterologist working in Bournemouth as a consultant for over 10 years. He trained in Medicine at Guy's, King's and St. Thomas' Medical Schools, qualifying in 2000. And gained a doctorate in medicine (higher research degree) from Imperial College in 2010.
He is a friendly and approachable doctor with a strong research background . His special interests are the investigation and management of inflammatory bowel disease (ulcerative colitis, Crohn's disease and pouchitis) irritable bowel syndrome and coeliac disease.
He has written over 20 full papers in international medical journals and 4 book chapters in medical text books. Outside work his interests include cycling, swimming and sailing with his family.
Procedures Include:
Colonoscopy (including removal of large complex polyps and stricture dilatation)
Gastroscopy
Enteroscopy
Flexible sigmoidoscopy
Percutaneous endoscopic gastrostomy (PEG)
Video capsule endoscopy
Find Out More
To find out more or to book a consultation contact Medical Extras