Coastal Cardiology
Private Consultant Cardiology Service in Bournemouth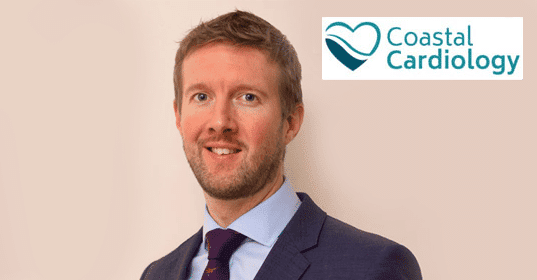 My name is Dr Chris Critoph, and I am a Consultant Cardiologist based in Bournemouth. I trained in cardiology at major teaching hospitals in London and Australia, before moving to Dorset in 2015 with my wife and 2 young children.
Rapid Access Clinics
I am clinical lead for heart failure at the Royal Bournemouth Hospital. I run rapid access clinics for private patients with heart symptoms, such as chest pain, shortness of breath and palpitations.
I am an expert in diagnosing and treating problems affecting the heart, and am one of the very few UK specialists trained in assessing patients with a family history of heart disease and sports cardiology.
Heart Assessment
I also run a specialist heart assessment clinic for patients with a family history of heart disease, even if they have no symptoms themselves. This is particularly important because many patients have heart attacks out of the blue, with the only risk being a family history.
I provide a comprehensive range of painless, non-invasive tests to help investigate patients' symptoms, including ECGs, heart monitors for palpitations, echocardiograms, CT and MRI. Once a diagnosis is made, I pride myself on using plain English to explain the test results and treatment plan, and regularly receive 5* feedback.