Medical Extras have partnered with a number of local services who offer private services in specialist areas.
Please use the below Services Menu to navigate your way through the services. 
Lymph Drainage
The only Mechanical Lymph drainage device on the Southcoast.
The Southcoast now has a new and highly affective Technology to treat Lymphedema by means of Mechanical massage. The overlapping air chambers of the sleeves are rhythmically filled with low pressure air producing a gentle "gliding wave" effect that mechanically helps with lymphatic drainage. This produces an overwhelming feeling of relief for tired legs and provides a detoxing effect for the whole body. Post treatment you will feel lightness in the legs, a reduction in swelling and the burning sensation associated with lymphatic problems will diminish.
Greta Varro High Care Therapist:
Greta Qualified in 2009 in Hungary as Beauty Therapist, where she ran her own business before relocating to the Uk to continue her career in the Healthcare and Beauty industry.Greta believes that health and beauty are gifts that need to be taken care of.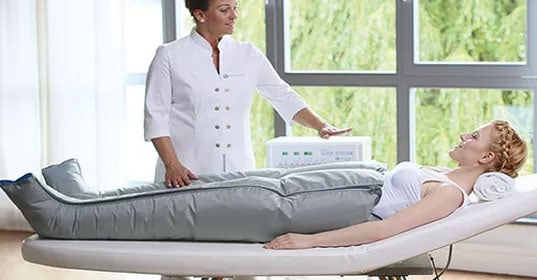 Recommended Treatment:
2x a week for 6-10 session. Top-up treatment every 3-4 weeks
Body Consultancy
Is Pain and Restriction impacting your life? Do you want to change that?
We believe that changes in movement can really help change people's lives. We care about our patients and everything we do is aimed at improving their well-being.
By understanding that our bodies can be affected dramatically by our lifestyle, we can see that factors such as poor muscular control and weakened core muscles can lead to various problems. We look at these issues and how they may stem from daily habits, work postures, poor form with exercise, repetitive strains or lack of movement.
Osteopathy, chiropractic and physiotherapy services, tailored to your needs
Our highly-trained practitioners will assess you thoroughly to work out the root of the problem, while ruling out any serious issues. Our team are made up of several primary care practitioners, meaning that general practitioner referral is not necessary.
By providing free 15 minute initial assessments, we can give a no-obligation overview of what to expect from treatment, including number of sessions, cost and prognosis, if it is suitable. If a patient decides to pursue treatment with us, our initial consultations involve an in-depth case history taking and practical examination so that we can provide you with a diagnosis; you will also receive treatment during this first session.
We can provide safe and effective treatment for many muscle and joint complaints, including lower back pain, neck pain, migraines and arthritic pain. Treatment techniques may involve a combination of soft tissue work, joint mobilisations, acupuncture, manipulation and exercise therapy.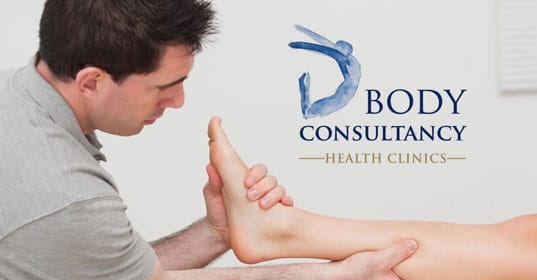 If you would like to read more about the services we offer please go to our website:
We look forward to hearing from you.
The Podiatry Clinic
Our mission is to offer a professional foot care service of the highest standard.
All of our team are registered with the Health and Care Professions Council (HCPC) and undertake regular training courses to ensure that they are able to offer the most up to date advice and treatment. At your appointment you can expect to have a thorough assessment of your foot health along with treatment in a clinical environment which meets national standards. 
Foot and Ankle Pain
There are many conditions which can lead to foot and ankle pain, a thorough bio-mechanical assessment with our podiatrist can help diagnose your condition and provide a treatment plan to alleviate the problem. This may include custom made foot orthoses prescribed to your particular needs, stretching exercises and/or appropriate referral pathways.
Nail Surgery Procedures
Trouble with painful ingrowing toenail? Our podiatrist can help to identify the extent of the ingrowing nail and whether a painless nail surgery procedure under local anaesthetic would be required to rectify this issue.
Fungal Nails
Fungal nails are hard to diagnoses visually even by a trained professional. At the Podiatry Clinic we offer a quick fungal nail test which will guide your treatment in the right direction. If the podiatrist recognises any other health problems, during your treatment, they can refer you to your general practitioner or other healthcare professional if needed.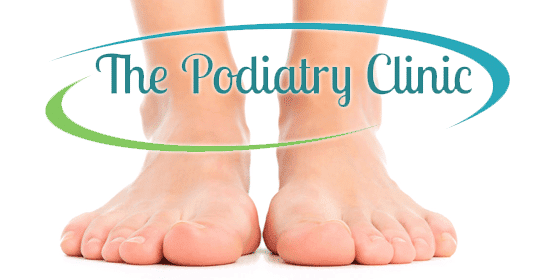 Routine Care
We take pride in providing a wide range of foot treatment tailored to your individual needs, this includes:
Simple nail care
Corns and Callus
Athletes foot
Verrucae
To find out more about the services we provide, please visit our website: www.thepodiatry.clinic
Or call 01425 277 505
Nationwide Private Health Cover 
Total Home Loans Ltd can offer advice on a wide range of Private Medical Insurance 
Our panel of market health insurance packages for you and your family. All of our recommended policies are tailored to give you peace of mind by ensuring that you have the right protection in place. You're able to personalise your policy with a range of cover options, all of which can be chosen to suite your budget while retaining the best standard of care.
Health Insurance Tailored To You
Total Home Loans Ltd offers more than just health insurance. We can offer a range of cover options which allow you to adopt aspects of your health insurance to suit your needs. We don't just insure, we care. We can help you to access teams of health experts who are there to help you make decisions about treatment and provide support when you need it the most.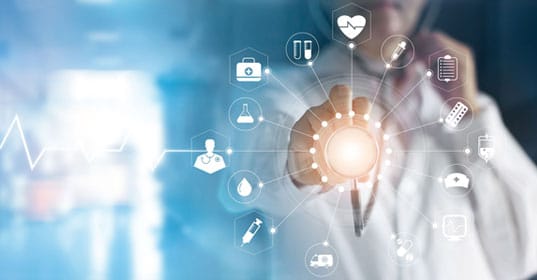 Coastal Cardiology
Private Consultant Cardiology Service


My name is Dr Chris Critoph, and I am a Consultant Cardiologist based in Bournemouth. I trained in cardiology at major teaching hospitals in London and Australia, before moving to Dorset in 2015 with my wife and 2 young children.
Rapid Access Clinics
I am clinical lead for heart failure at the Royal Bournemouth Hospital. I run rapid access clinics for private patients with heart symptoms, such as chest pain, shortness of breath and palpitations.
I am an expert in diagnosing and treating problems affecting the heart, and am one of the very few UK specialists trained in assessing patients with a family history of heart disease and sports cardiology.
Heart Assessment
I also run a specialist heart assessment clinic for patients with a family history of heart disease, even if they have no symptoms themselves. This is particularly important because many patients have heart attacks out of the blue, with the only risk being a family history.
I provide a comprehensive range of painless, non-invasive tests to help investigate patients' symptoms, including ECGs, heart monitors for palpitations, echocardiograms, CT and MRI. Once a diagnosis is made, I pride myself on using plain English to explain the test results and treatment plan, and regularly receive 5* feedback.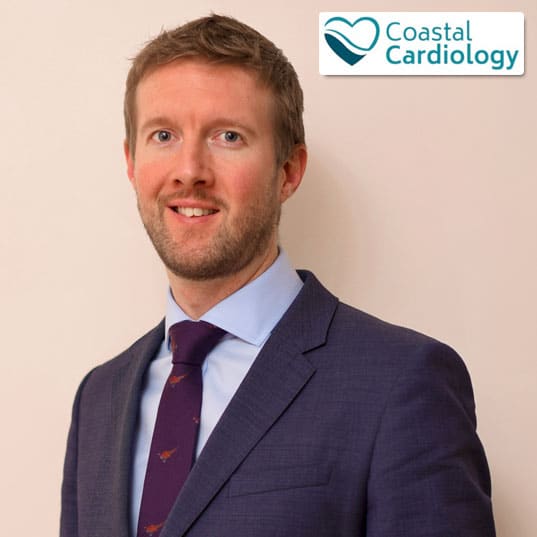 Vascular Consultant
Private Consultant
Mr Lasantha Wijesinghe worked with Dr Ravin and Dr Jemima Ramtohal for several years. Mr Lasantha Wijesinghe is a vascular surgeon who undertakes private clinics at BMI The Harbour Hospital in Poole. He specialises in the treatment of varicose veins using minimally invasive techniques and surgery. He also treats leg swelling, arterial problems, aneurysms and leg ulcers.

Mr Wijesinghe has been a consultant vascular surgeon since 2002 having graduated from the University of Cambridge. He has served on the Council of the Vascular Surgical Society of Great Britain and Ireland and is a Fellow of the Royal College of Surgeons, and the European Board of Vascular Surgery. He was elected to the Council of the Royal College of Surgeons of England in April 2020 for a four-year term.

His NHS practice is based within the Dorset and Wiltshire Vascular Network centred at the Royal Bournemouth Hospital.
Clinical Interests
• Foam scelotherapy
• Thread veins
• Varicose veins
• Botox
• Hernia Repair
• Aneurysms
• Peripheral vascular disease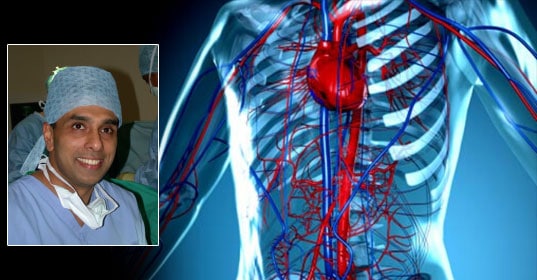 Professional Memberships
• Vascular Society of Great Britain and Ireland
• Royal College of Surgeons of England
• British Medical Association
To find out more or book a consultation call Medical Extras on

01425 540214
Consultant Endocrinologist
Endocrinology and Diabetes Since 1996
Dr Ravin and Dr Jemima continue to work with Dr Richardson who has trained in Endocrinology and Diabetes since 1996. He has been a Consultant Endocrinologist at the Royal Bournemouth Hospital since 2005. He is widely experienced in Endocrinology and leads a number of specialist services at local and regional level. He is departmental lead for the Diabetes & Endocrine Centre at RBH and Clinical Director for Medicine.
His research interests are in metabolic endocrinology and he is widely published. He is regional lead for Endocrine research for the Dorset, Somerset & Avon.
He represents the Society for Endocrinology at National level for the 'Clinical Committee' and the 'Public Engagement Committee' as well as representing the SW of England on the Department of Health Endocrine Specialist Commissioning group.
Research
Dr Richardson has published over 40 papers and book chapters and nearly 100 abstracts in various fields.
Other Interests:
• Metabolic Endocrinology
• Pituitary disease
• Thyroid disease
• Calcium and Vitamin D
Other Posts Held
• Consultant Endocrinologist, Royal Bournemouth Hospital
• Fellow Bournemouth University
Treatments and tests offered by Dr Tristan Richardson at Nuffield Health:
• Endocrine
• Weight Management
To find out more or book a consultation call Medical Extras on

01425 540214
Gastroenterology Consultant: Dr Simon McLaughlin
Dr Simon McLaughlin is a Consultant Physician and Gastroenterologist at The Royal Bournemouth Hospital, Bournemouth private clinic and The Nuffield Health Bournemouth Hospital.
Dr McLaughlin is an NHS and private gastroenterologist working in Bournemouth as a consultant for over 10 years. He trained in Medicine at Guy's, King's and St. Thomas' Medical Schools, qualifying in 2000. And gained a doctorate in medicine (higher research degree) from Imperial College in 2010.
He is a friendly and approachable doctor with a strong research background . His special interests are the investigation and management of inflammatory bowel disease (ulcerative colitis, Crohn's disease and pouchitis) irritable bowel syndrome and coeliac disease.
He has written over 20 full papers in international medical journals and 4 book chapters in medical text books.Outside work his interests include cycling, swimming and sailing with his family.
Procedures he undertakes include:
Colonoscopy (including removal of large complex polyps and stricture dilatation)
Gastroscopy
Enteroscopy
Flexible sigmoidoscopy
Percutaneous endoscopic gastrostomy (PEG)
Video capsule endoscopy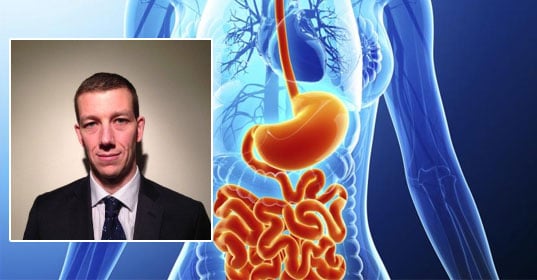 Gastroenterology Consultant: Dr Charles Gordon
Dr Ravin and Dr Jemima Ramtohal both worked with Dr Charles Gordon and he is highly recommended working in the field of Gastronenterology. He trained at St George's Hospital Medical School graduating in 1995. He has a keen interest in Barrett's oesophagus and he was appointed as a Consultant Gastroenterologist in 2008.
Dr Gordon is the Clinical Lead for Endoscopy and upper GI Physiology. He also chairs various committees including the Dorset cancer Network.
His areas of specialist interest include endoscopy, reflux disease, heartburn, hiatus hernia, colonoscopy and irritable bowel syndrome. He is recognised nationally for his work in Barrett's oesophagus and has introduced HALO RadioFrequency Ablation for the treatment of Barrett's oesophagus.
Other interests
• Upper GI Gastroscopy (diagnostic and therapeutic)
• Colonoscopy and Flexible Sigmoidoscopy (diagnostic and therapeutic)
• Endoscopic Mucosal Resection
• Endoscopic Ablation of Barrett's oesophagus (including HALO radiofrequency ablation)
• Reflux disease, Heartburn, Abdominal Pain, Diarrhoea, Constipation, Hiatus hernia
• Irritable bowel syndrome
• Oesophageal manometry
• Barrett's Oesophagus.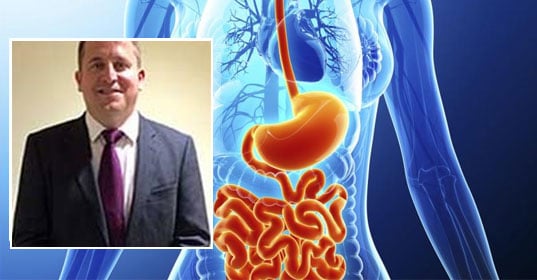 Medical Secretary


Sue Berenyi
Nuffield Health Bournemouth 


Tel 1:

01202 702823


Tel 2:

01202 702275


Email:

[email protected]
Consultant Gastroenterologist and Hepatologist: 
Dr Safa Al-Shamma,
GMC, BSG, MDDUS and Fellow of the Royal College of Physicians of Edinburgh
Dr Ravin Ramtohal worked with Dr Safa Al-Shamma and he an excellent consultant whose area of expertise was the liver and general gastroenterology.
He graduated from Dundee University in 2002 with commendation. He then completed his training in Mersey Deanery and with a further specialist fellowship in hepatology and liver transplant at the Royal London and King's College Hospital London.
He has been working locally as an NHS consultant gastroenterologist and hepatologist for several years.
He currently co-leads the hepatology service and it the lead for the hepatocellular carcinoma service (HCC) offering a County wide tertiary service.
He is currently an associate clinical advisor for the Parliamentary and Health Service Ombudsman (PHSO), carrying out detailed analyses of complex medical reviews.
Publications
1. Assessment of bone mineral density in tenofovir-treated patients with chronic hepatitis B: can the fracture risk assessment tool identify those at greatest risk?
2. District general hospital networks can provide safe and effective hepatitis C treatment: results of a 5-year audit.
3. Use of a xanthine oxidase inhibitor in autoimmune hepatitis.
Research
Hepatitis C
Fatty liver/non-alcoholic steatohepatitis (NASH)
IBS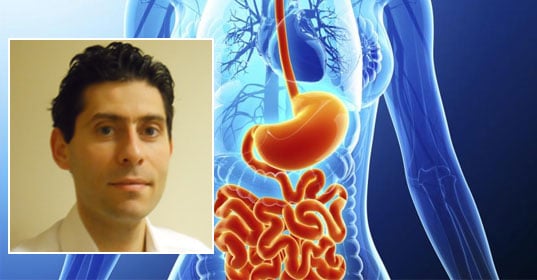 Primary contact
Medical Secretary


Melanie Webster
01202 704563
Special clinical interests:
Hepatocellular cancer
Portal hypertension
Fatty liver
Autoimmune liver disease
Complex colonoscopy
Education and training
Governance and mortality lead
Consultant Cardiologist

Royal Bournemouth & the Nuffield Bournemouth Hospitals
Dr Suneel Talwar MBBS, MRCP, MD
EXPERIENCE & EXPERTISE
I am Dr Suneel Talwar, a Consultant Interventional Cardiologist specialising in all aspects of general and interventional cardiology including coronary angiography, PCI (Percutaneous Coronary Intervention, commonly known as coronary angioplasty and stenting) as well as the treatment of valvular heart disease, heart failure, hypertension and atrial fibrillation.
I see patients suffering from symptoms that might reflect an underlying problem with the heart such as chest pain, breathlessness, palpitations, dizziness and blackouts.
My sub-speciality interest is in coronary intervention and stenting. I have performed approximately 10,000 PCI procedures and am one of the highest volume PCI operators in the UK with an excellent success rate.
KNOWLEDGE & EXPERIENCE
I started my specialisation in cardiology in Leicester in 1996 and was subsequently granted a research fellowship by Leicester University in 1997. I then moved to the South West Cardiothoracic Centre, Plymouth in 1999 where I spent 5 years as a Specialist Registrar in Cardiology, with a special interest in coronary intervention. In 2003 I spent 3 months as an interventional fellow at the St Olav University Hospital, Trondheim, Norway. I was invited back to Trondheim in 2004, to take up the post of a Consultant Interventional Cardiologist for four months. I spent a further three months as a locum Consultant in Cardiology at Glenfield Hospital, Leicester prior to being appointed as the clinical lead for the Coronary Angioplasty programme at the Royal Bournemouth Hospital in 2005.
My sub-speciality interest is in coronary intervention and stenting. I have performed approximately 10,000 Coronary stenting procedures and am one of the highest volume PCI operators in the UK with an excellent success rate. Between January 2012 and December 2014 I performed 1747 PCI procedures with an observed in-hospital major adverse cardiac and cerebrovascular event (MACCE) rate of 0.06%. My predicted MACCE rate during this period was 2.05% based on case complexity and the national average MACCE rate was 1.5% during this same period.
I have a particular interest in complex intervention. I am a national proctor for rotational atherectomy in the UK. I am a European proctor for laser atherectomy and have trained over 200 physicians from the UK and Europe in this new and exciting technique. I also have a special interest in complex intervention for chronic total occasions. I receive referrals from a number of hospitals for complex PCI including Salisbury, Southampton, Plymouth, Torbay, Truro, Basingstoke and Winchester.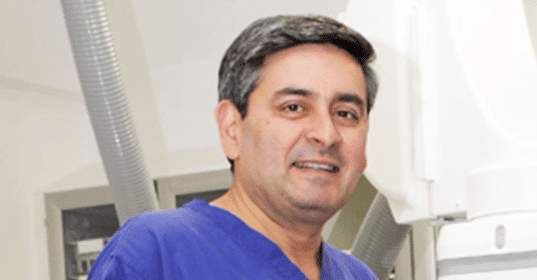 ASSESMENTS
I offer a broad range of diagnostic cardiac investigations and monitoring.
ECG
Exercise treadmill test
Echocardiogram
24 hour and 7 day Ambulatory ECG recordings
Instant check recorders
24 hour Blood pressure monitoring
Multislice coronary CT imaging
Cardiac MRI for viability and ischaemia
PROCEDURES
I perform the following invasive investigations and interventions:
Coronary angiography
Right and left heart catheterisation
Pressure wire assessment of coronary arteries (FFR AND iFR)
Intravascular ultrasound assessment of coronary arteries with virtual histology
Optical Coherence tomography assessment of coronary arteries
Rotational atherectomy (rotablation)
Coronary angioplasty and stenting
Implantation of Bioresorbable vascular scaffold systems in coronaries
Private Secretary
01794 324228 (Tel)
01794 324217 (Fax)


[email protected]



NHS Secretary
01202 726142 (Tel)
01202 726133 (Fax)
Consultant in Stroke and Medicine for the Elderly
Dr Kwan

Expertise: Stroke, Transient ischaemic attack (TIA), Post-stroke complications, Dementia, Frailty, Geriatric Medicine, Healthy ageing.

Professor Kwan worked with myself and Jemima and is highly skilled. Please note his clinics are in London.
Consultant Biography
Dr Kwan is a Consultant Specialist with over 20 years' of training and experience of working in Stroke, Dementia and Geriatric Medicine, including General Internal Medicine and Geriatric Medicine in Wessex, Stroke Fellowships in Southampton and Edinburgh, Clinical Neurology Fellowship at The Institute of Neurology, and Dementia Scholarship in San Francisco. He became a Stroke Consultant in Bournemouth in 2006, and later served as the Head of Department as well as the Clinical Lead for the Dorset Stroke Network. Between 2014 and 2018, he worked at the University of Hong Kong as the Clinical Associate Professor in Geriatric Medicine, specialising in Neurology in Older People and Dementia. To date, he has published over 140 journal articles, scientific abstracts, book chapters and theses.
In June 2018, Dr Kwan returned to London to work as a full-time Senior Stroke Consultant at the prestigious Imperial Stroke Centre in Charing Cross Hospital, which is a leading tertiary Hyper Acute Stroke Unit that offers specialised emergency stroke interventions including mechanical thrombectomy. At Imperial, Dr Kwan is the lead for postgraduate stroke training, clinical quality improvement through the Sentinel Stroke National Audit Programme (SSNAP), and post-stroke cognitive service. He is a Visiting Professor at Bournemouth University, Honorary Clinical Associate Professor at the HKU, and an Examiner for the Royal College of Physicians.
Dr Kwan's ultimate goals of stroke treatment are twofold:
1) Achieving a faster and fuller recovery through intensive and personalised rehabilitation.
2) Prevention of another stroke.
He has particular expertise in managing post-stroke complications including pain, memory loss, anxiety and depression, and epilepsy. He also treats transient ischaemic attacks (TIA) as emergencies with a comprehensive panel of urgent specialised tests and prompt preventive interventions. Older and frailer patients with dementia and other age-related problems can also expect a comprehensive geriatric assessment with a holistic approach of promoting healthy and happy aging through good nutrition, physical exercise and brain stimulation.
Eye Care Services
Sapphire Eye Care is a dedicated eye care business focused solely on improving eye health in the south of England.
We partner with many Ophthalmic Consultants covering all sub-specialties of eye care, including Cataract and Refractive, Retina, Medical Retina, Cornea, Glaucoma and Oculoplastics. We work with multiple hospital providers, including Nuffield Health, Spire Healthcare and BMI. This allows us to offer our patients lots of options to suit their individual needs. We also have a dedicated team of administrators who are on hand to answer any questions you may have. Simply call 023 8025 8405 or e-mail [email protected].

Weekly Clinics in Highcliffe and Surrounding Areas
Sapphire Eye Care hold weekly clinics in around Dorset and are recognised by all major health insurers. Our Consultants, including Mr Andy Luff, Mr Deb Sahu, Ms Nishani Amerasinghe and Mr Simon Rogers, hold clinics in Highcliffe, New Milton, Wimborne and Chandlers Ford. We are often able to see new patients within a week of their enquiry and, even if you do not have private medical insurance, we have Self Pay options which are reasonably priced. For further information please visit our website www.sapphire-eyecare.co.uk and read our patient testimonials under 'Case Studies'.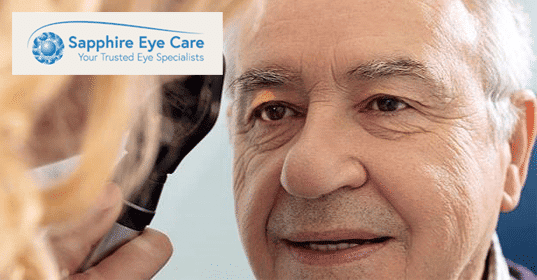 Our dedicated eye care team are available on

02380 258405
if you have any questions or wish to book an
appointment.
Services Coming Soon:
Speech and Language Therapy
Dietician
Ear wax removal service
Minor Surgery
Aromatherapy and Massage
Manual Lymphatic Drainage
Mechanical Lymph Drainage
Acupuncture
General Practice Services