Lymph Drainage Specialists
Located in Highcliffe, Christchurch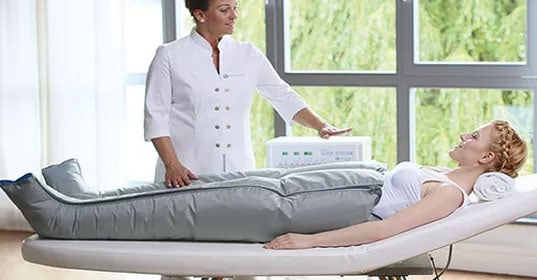 The Only Mechanical Lymph Drainage Device On the Southcoast
The Southcoast now has a new and highly affective Technology to treat Lymphedema by means of Mechanical massage. The overlapping air chambers of the sleeves are rhythmically filled with low pressure air producing a gentle "gliding wave" effect that mechanically helps with lymphatic drainage. This produces an overwhelming feeling of relief for tired legs and provides a detoxing effect for the whole body. Post treatment you will feel lightness in the legs, a reduction in swelling and the burning sensation associated with lymphatic problems will diminish.
Greta Varro High Care Therapist
Greta Qualified in 2009 in Hungary as Beauty Therapist, where she ran her own business before relocating to the UK to continue her career in the Healthcare and Beauty industry. Greta believes that health and beauty are gifts that need to be taken care of.
Recommended Treatment:
2x a week for 6-10 session. Top-up treatment every 3-4 weeks